The Real Housewives of N.Y.C. and O.C. Catfight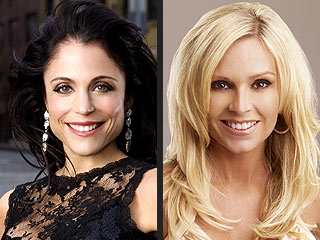 June 6, 2008
It was a real-life case of East Coast versus West Coast backstage during the Wednesday taping of the Bravo A-List Awards when the casts of The Real Housewives of Orange County and New York City nearly came to blows over the script the ladies were supposed to read during the awards ceremony.
According to New York "Housewife" Bethenny Frankel (who isn't married), the argument started when O.C. Housewife Jeana Tomasina (formerly Keogh) didn't like the script that was given to the Housewives to say on stage.
"They [The O.C. Housewives] said in our material that my apartment is a two-by-four, and it's actually a one-by-two, and so I can take it, I don't care," Frankel told PEOPLE. "But they're offended that I'm saying something about them living 65 miles from the beach. Jeana said, 'I don't think that's funny.'"

From there relations between the ladies apparently got extremely chilly. Jill Zarin from the N.Y.C. cast said, "Bethenny gave a dressing down in the dressing room to one of the Housewives," but O.C. cast member Tamra Barney tells the story differently.
Barney asserts that Frankel actually came after her physically: "Bethenny scratched me a little bit. I swear to god. She tried to get me from behind and I put my arm up, and she scratched me. I covered it with makeup."
Later that evening Frankel denied that the catfight came to physical blows, but alluded to the fact that the argument was far from over. "Watch what happens," Frankel warned, adding: "Give me a can of hairspray and a match, and I'll take care of that in the dressing room later."
The ladies from the O.C. cast seem prepared for the ensuing battle, though. Barney's response? "The Housewives of the O.C. can kick the Housewives of N.Y.C.'s ass!"