$15 million for Brangelina twin photos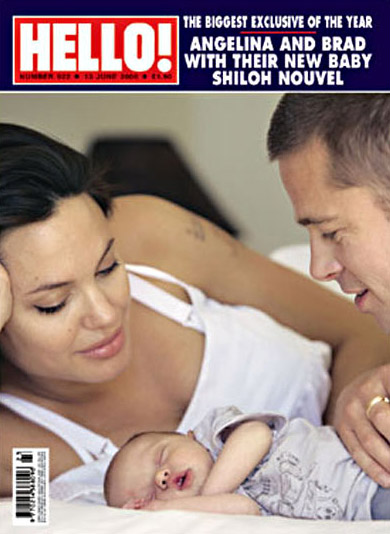 Angelina Jolie and Brad Pitt are about to release their latest production, their twins, into the world. Like every expectant mother they have things to plan – what hospital will my baby be born at? Breastfeed or bottle feed? Which magazine will buy the pictures for the most cash?
The bidding for the Brangelina twins pics has reached a whopping $15 million — and will probably go a lot higher.

Our magazine spies tell us only PEOPLE and OK! are left standing in the bidding war. One spy says the pics are so valuable they would "print blank pages" the rest of year to get them.

Can a weekly mag actually recoup all that cash? Probably not, but it doesn't matter. The prestige is what counts.

No deal has been inked yet. Brad's peeps didn't return our calls. A PEOPLE rep says, "We'd love to see the photos in PEOPLE. We wish the family well" OK!'s rep refused to address a dollar figure, but admits they'd be "foolish" not to make a play for the photos.

We're told the $$$$ Brad and Angie get will go to charity.
$15 million dollars is going to be wonderful for the charity it will go to, but that is a lot of money for pictures of two little babies. Particularly when babies just look like babies, they aren't really very interesting. Jennifer Lopez was paid $4-6 million for her twins by People, the same magazine that bought Shiloh Jolie-Pitt's picture for $4.1 million, which is the most expensive picture of a single child to date.
The bidding for the pictures got very heated following the innacurate reports that Angelina had given birth at the weekend. If the price is already around $15 million, by August these pictures could give several charities a financial boost.
I don't believe those babies are due as late as August, but if they are, I'm feeling really sorry for Angelina Jolie. Sure, pregnancy might make you feel sexy, but she is just enormous for someone around the seven month mark, even taking into account that those are twins.
At the end of March the price of the pictures was put around $10 million, so maybe the price really has reached $15 million.
BRANGELINA TWINS MOLE: JACK BLACK
Jack Black is now blaming his wife for his blurting out the Brangelina Twins scoop.

The Kung Fu Panda star told The Today Show that wifey Tanya Haden was behind his big leak while being interviewed with co-star Angelina Jolie in Cannes.

As The ENQUIRER previously reported, when grilled where Jack got his information, the snarky lark was on-the-record during the interview as saying he'd read it in The ENQUIRER.

Now Black has recanted, telling Today host Meredith Vieira, "It was my wife's fault.

"She said, like it was common knowledge, 'Angelina's having twins' - because my wife is a triplet, and she was interested in that."

Or perhaps she's the one who keeps up with The ENQUIRER?