Mike Wallace Hospitalized After Fall, Won't Be Returning To TV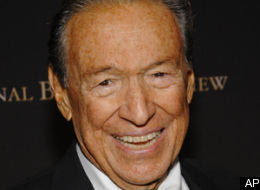 June 9, 2008
Veteran CBS
60 Minutes
newsman
Mike Wallace
is on the mend after a recent fall in his New York home that scared doctors still watching his recovery from triple bypass surgery in January.
"He's doing really well," says his son
Chris Wallace,
the
Fox News Sunday
host who checked in on him while at Fox's New York headquarters to cover the final presidential primaries last week.
Doctors hospitalized him, explains his son, because he's on a blood thinner and they wanted to make sure "that he didn't bleed out."
Chris says that his dad's heart "is working just fine" but that Mike is over with TV at 90.
"His plans are to be healthy enough to go up to Martha's Vineyard for the summer. And since I spend two weeks with him every year, I said to him, in terms of his rehab, 'Don't screw it up, because you're going to wreck my vacation.' "