Judge Alex Kozinski recuses himself from obscenity trial
The 9th Circuit chief judge makes the decision three days after admitting he had posted sexually explicit photos and videos on his personal website.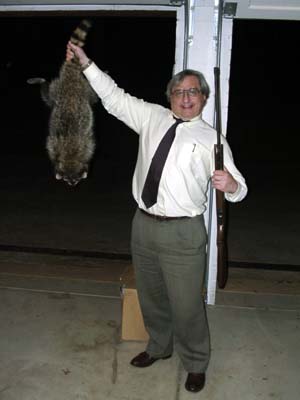 Judge Alex Kozinski, shotgun, and racoon
By Scott Glover
Los Angeles Times Staff Writer
June 13, 2008
A federal appeals court judge today recused himself from a closely-watched obscenity trial in Los Angeles, three days after acknowledging that he had posted sexually explicit material on a publicly accessible personal website.
"In light of the public controversy surrounding my involvement in this case, I have concluded that there is a manifest necessity to declare a mistrial," said Alex Kozinski, chief judge for the 9th Circuit Court of Appeals. "I will recuse myself from further participation in the case and will ask the chief judge of the district court to reassign it to another judge."
The obscenity trial in Los Angeles federal court was suspended Wednesday after The Times reported about the images on his website.
Kozinski, one of the nation's highest-ranking judges, granted a 48-hour stay in the obscenity trial of a Hollywood adult filmmaker after the prosecutor requested time to explore "a potential conflict of interest concerning the court having a . . . sexually explicit website with similar material to what is on trial here."
In an interview Tuesday with The Times, Kozinski acknowledged posting sexual content on his website. Among the images on the site were a photo of naked women on all fours painted to look like cows and a video of an encounter between a half-dressed man and a sexually aroused farm animal. He defended some of the adult content as "funny" but conceded that other postings were inappropriate.
Kozinski later said that his adult son may have been responsible for posting some of the material.
Kozinski said that he thought the site was for his private storage and that he was not aware the images could be seen by the public, although he also said he had shared some material on the site with friends. After the interview Tuesday evening, he blocked public access to the site.
Kozinski, 57, is and has been mentioned as a possible candidate for the U.S. Supreme Court. He was named chief judge of the 9th Circuit last year and is considered a judicial conservative on most issues. He was appointed to the federal bench by President Reagan in 1985.