---
Evidence in Hollywood Wiretapping Case Is Questioned
LOS ANGELES — Lawyers for defendants in the Anthony Pellicano wiretapping case argued in federal court here on Monday that evidence seized from the Hollywood private detective's offices had been improperly obtained and should be tossed out.
Facing a trial date of Feb. 27, lawyers for Mr. Pellicano and his five co-defendants attacked the search warrants used to raid the detective's offices in November 2002 and to unearth a trove of digital audio recordings in the ensuing months. They also argued that the case should be dismissed because of what they assert was rampant misconduct by government investigators.
But United States District Judge Dale S. Fischer appeared to be having none of it.
Mr. Pellicano and his co-defendants — including Terry Christensen, the head of a prominent entertainment law firm — face various charges of participating in a wiretapping ring on behalf of stars, industry moguls and others. The case surfaced after Anita Busch, then a reporter at The Los Angeles Times, found a menacing note and a hole in the windshield of her car in June 2002. She later discovered her phones had been wiretapped.
Defense lawyers have attacked the lead F.B.I. special agent in the case, Stanley Ornellas, and an affidavit he filed to get a search warrant for Mr. Pellicano's offices, asserting it was rife with misrepresentations and omissions. They have also claimed that a government witness, Alex Proctor, who admitted to vandalizing Ms. Busch's car, gave a description of the crime scene that was at odds with the facts.
On Monday, among other things, they argued that the windshield hole could not have been caused by a bullet, as Mr. Proctor claimed, and that he had referred to leaving a dead fish in a plastic container on Ms. Busch's car, when the fish was actually in a tin baking tray.
Michael Artan, a lawyer for Mr. Pellicano, argued that such details called into question Mr. Proctor's credibility. But the assistant United States attorney Daniel A. Saunders called the details insignificant compared with what Mr. Proctor remembered correctly and said much was still unknown about the threat — including who was behind it.
Judge Fischer said she would rule on defense motions in a few days. But in her remarks, she said she was loath to grant an evidentiary hearing where defense lawyers would be able to cross-examine Mr. Ornellas. Defense lawyers also argued that privileged material seized from Mr. Pellicano was improperly presented to the judge. And they argued that a warrant used to recover audio recordings — including much of the evidence against Mr. Christensen — was overbroad.
But Judge Fischer showed little receptiveness to any of the arguments presented by the defense.
Thus far, the only positive development for the defense has been the judge's granting of a hearing, at which Mr. Pellicano's lawyers may question agents including Mr. Ornellas about whether they had improperly used Mr. Pellicano's girlfriend at the time, Sandra Carradine, as an informant when she visited him in jail. The hearing is expected to take place in early January.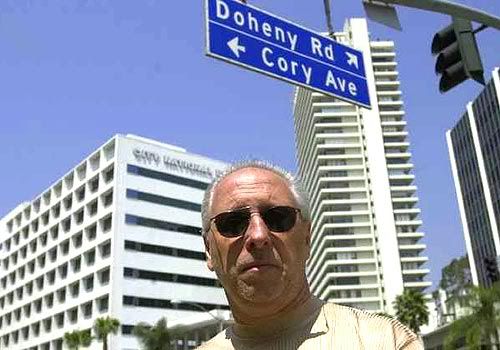 ---
Excerpts and Audio: The Pellicano Case
Following are excerpts of calls between the private eye Anthony Pellicano and several Hollywood players, as transcribed and edited by The New York Times. The digital recordings of the calls were turned over last year by prosecutors to defense lawyers as part of the discovery process. Prosecutors said the recordings were recovered from Mr. Pellicano's computers. Mr. Pellicano has pleaded not guilty to charges of wiretapping and racketeering.
(NOTE: Both the transcripts and audio clips have been edited to delete profanity.)
April 11, 2002, at 3:12 p.m.
Michael Ovitz calls Anthony Pellicano to set up a meeting.
AP: How can I help you, Michael?
MO: I need to see you.
AP: When do you want to do that?
MO: When you have time. I have a situation I need advice on. I think it would be —
AP: All right. Just tell me when.
MO: I think it would be, uh, beneficial to your — I think it would be beneficial to you and probably beneficial to me.
AP: Listen, my friend Bert Field loves you, I love you.
MO: Oh.
AP. You understand what I'm saying?
MO: I appreciate that. But this is incredibly — This is the single most complex situation imaginable, and, uh—
AP: Well when do you want to see me? Give me a time.
MO: When I can see you privately.
AP: When – do you want to do it tonight?
August 17, 2000, at 8:11 p.m.
Mr. Pellicano and John McTiernan, the film director, discuss the wiretapping of Charles Roven, producer of Mr. McTiernan's film, "Rollerball."
AP: I'm beat. Do you realize how much [DELETED] work you gave me?
JM: Well, I think in the process you'll probably get a hell of an education in the film industry.
AP: Oh, you have no [DELETED] idea. And everything else, every aspect of everything, if you understand what I mean. Jesus Christ! I mean scheming, you know, wriggling, lying, hypocrisy — oh, my God. Oh, my God.
Later in the same call:
AP: There's nothing for you personally to concern yourself with. There's just tons of data. I mean it's overwhelming. You know, I did both of them. So it's not only him, it's her. Now, her you probably don't give a [DELETED] about. But him, you know —
JM: Basically, I sort of would like to know what he's saying to the studio and if there is any place where he's clearly saying one thing to the studio and saying something else to others —
AP: I hope nobody's listening to this — nobody's listening to this conversation, I hope.
JM: Hmm?
AP: There's nobody in the room with you. Are there?
JM: Oh, no, no. Of course not.
AP: O.K. God, whew, all right. Because there's only two people in the world that know about this and that's you and I.
JM: I got it. I got it.
June 2001 (exact day and time are unclear)
Courtney Love discusses her desire for a private eye who can provide a variety of services. Mr. Pellicano assures her that he fits the bill.
CL: I need everything from refinement to [DELETED ] baseball bats. And I need them all under one roof. And so what Gavin doesn't offer and what Jack doesn't offer and what I think you might offer is that when I have a problem of any stripe, A to Z, I can go to you. And that's what I need —
AP: Listen, Courtney, if you come to me that's the end of that. I'm an old-style Sicilian. I only go one way. My clients are my family and that's it.
CL: Right.
AP: You [DELETED] with my family, you [DELETED] with me. And that's the end of it.
CL: Right.
AP: There is no other way around it. I'm very heavy-handed, honey.
CL: Um, I need heavy-handed, baby.
August 2001(exact day and time are unclear)
Mr. Pellicano talks to Chris Rock about a woman's accusation that Mr. Rock had nonconsensual sex with her. Mr. Pellicano informs Mr. Rock of the existence of a police report but assures him that the police aren't taking it seriously. No charges were ever filed.
CR: I'm better off getting caught with [DELETED] needles in my arm. I really am.
AP: No, I don't want you to do that either.
CR: Way better. Needles with pictures: "Here's Chris Rock shooting heroin."
AP: Don't worry about it, baby. We're gonna get this taken care —
CR: Much better blow to the career.
AP: You're not gonna get no blow to the career. It ain't gonna happen. I'm not gonna let it happen. Just stick with me, baby. I'll take care of it.
CR: All right.
Later in the same call:
AP: What the [DELETED] are you doing down in Australia?
CR: Um, I had to promote my last movie.
AP: How'd it do?
CR: Oh, did fine.
AP: Good.
CR: Fine.
AP: Is it out?
CR: Uh, I mean, "Down to Earth"? Yeah, it's in video now.
AP: Oh, what movie's that?
CR: It's called "Down to Earth."
AP: Oh, I didn't see that one.
CR: Romantic comedy.
AP: O.K. I'll pick it up.
CR: A little fluff.
AP: O.K. Yeah, don't get too fluffy, man.
CR: Yeah.
AP: Look what happened to Richard Pryor.
CR: Yeah.
AP: You understand? They wanted to make him [DELETED] sensitive and he lost it.
CR: Uh, boy.
AP: You understand what I mean?
CR: Yeah, I know what you mean.
Feb. 12, 2002, at 2:49 p.m.
Brad Grey talks to Mr. Pellicano about a pitch for an HBO series inspired by Mr. Pellicano's career. Mr. Pellicano is worried that he is getting shortchanged in compensation and credit.
BG: The spirit of this whole thing when you brought us this idea when we sat at William Morris was that we would make a deal that was basically void of Hollywood negotiation and that we would all do the right thing at the time. And you've been very clear from the beginning that that was how you saw it as well. And we sort of all — We know each other well enough at this point to say we just trust that that's the case.
AP: And I still trust you.
Later in the same call:
BG: Whatever the numbers are, and I'll share with you, Anthony, all of the numbers. You know what I mean? I'll share with you the license fees and what our points are and what —
AP: Oh, no, honey. Don't — The stuff that has — as pertains to you is your business. But all — Here's what they told me.
BG: Yeah.
AP: They said that they will not give me executive producer credit.
BG: Well, I will take care of that. What's the next thing?
Later in the same call:
AP: Let me say something to you.
BG: Yeah.
AP: It wouldn't matter to me.
BG: Well it matters to me.
AP: You're my friend. If you said, 'Anthony, I get $10 million, you get 10,000.' That's it.
BG: Right. Right.
Later in the same call:
AP: O.K. If those two issues are resolved, I don't have a problem.
BG: O.K.
AP: Especially in lieu of the fact that you're telling me that $30,000 is a good deal.
BG: It is.
AP: O.K. I mean because —
BG: I wish, I wish I could tell you —
AP: . . . when I went back to, when I did the consulting for the script for Fox with Michael Mann, I got $250,000.
BG: For a TV show?
AP: No. No. For the film.
BG: Oh.
AP: Just consulting.
BG: Oh. Well you know what?
AP: And there was an option —
BG: That's a better business. Go —
AP: [laughing] I don't know.
BG: Take a few of those a year.
AP: I don't know.
BG: That's a good business.