Superhero Green Hornet may fly again in film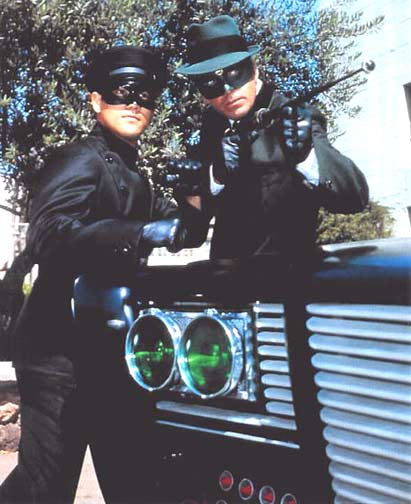 Tuesday March 20 5:57 PM ET
The Green Hornet, a classic crime-fighting hero from radio, TV and comic books, may fly again on the big screen.
Columbia Pictures has acquired film rights to the masked character for a feature film about the daring newspaper publisher who battles the underworld by night with the help of his loyal sidekick, Kato, the studio said on Tuesday.
No casting decisions have been made and no director or screenwriters are yet connected with the project, a spokesman for the Sony Corp .-owned studio told Reuters.
Columbia is the same distributor behind the blockbuster "Spider-Man" film franchise based on the web-spinning Marvel Comics hero. "Spider-Man 3" is due out in May.
"I couldn't be more thrilled to be developing this world renowned property with the people who brought Spider-Man to the screen," Green Hornet producer Neal Moritz said in a statement.
Introduced by Russian composer Nikolay Rimsky-Korsakov's "Flight of the Bumble Bee," "The Green Hornet" debuted as a radio show in January 1936 on WXYZ in Detroit. He had been created by the station's George Trendle and Fran Striker, who also invented the Lone Ranger.
The story centered on the adventures of playboy Britt Reid, who inherits his father's crusading newspaper, the Daily Sentinel, which he uses to expose organized crime in the city.
Adopting the secret guise of the Green Hornet, Reid takes to the streets to personally battle criminals by night in his supercharged car, the Black Beauty, driven by his faithful companion, Kato, a master of martial-arts.
The radio series ran until 1952 on the Mutual and NBC Blue networks before the Green Hornet began appearing in comic books.
The story of the masked crime-fighter, armed with special weapons that could subdue his foes with a knock-out gas or an electric shock (the "hornet's sting"), also was made into two movie serials during the 1940s.
But the Green Hornet is best remembered by baby boomers for the 1966-1967 ABC television series that starred Van Williams as the title character and Bruce Lee as Kato.
"It was my favorite show as a kid," said Moritz, who bought rights to the project from the families of Striker and Trendle. "It's a dream come true for me."
He said the film would be updated to contemporary times but follow the original mythology of the character.