2/20/2007 1:32 PM ET
NEW YORK (Reuters) (Reuters) — Viacom engaged in a public copyright battle with Google's
(GOOG)
YouTube, said on Tuesday it has agreed to offer its videos to Joost, the Internet video service created by the founders of Skype and Kazaa.
Viacom said Tuesday hundreds of hours of TV programming from its MTV and BET Networks and feature-length films from Paramount Pictures will be available to Joost users for free under a revenue-sharing deal between the two companies.
It did not disclose financial terms, but an industry source said Viacom was likely to have secured a slightly better agreement than its traditional deals to receive two-thirds of advertising revenue.
Joost, which launched in January, was designed from the start to license professionally produced programming whereas YouTube was primarily designed for users to share home videos, though it has evolved into the Internet's biggest aggregator of TV and movie clips.
Joost said more deals with both big media and independent producers will be announced in the coming weeks. The site already has licensing agreements with Warner Music Group and TV production company Endemol.
"The world is ready for us," Yvette Alberdingk Thijm, Joost's vice president of content strategy and acquisition, said in a phone interview. "It's the perfect moment to launch a global online distribution platform."
For Viacom, the timing could not be better. The deal comes amid its public spat with YouTube over protecting copyrighted material. After failing to reach a distribution deal, Viacom in early February demanded YouTube pull down over 100,000 video clips that were uploaded by users without authorization.
Viacom and other media companies are also clashing with YouTube over its policy of restricting access to technology it is developing to identify pirated programming.
Viacom, News Corp. and General Electric's NBC Universal have discussed launching their own joint competitor to YouTube, but industry sources said earlier that differing interests have stalled plans.
Traditional media companies are courting online users as viewers split their leisure time surfing the Web and digital media devices like Apple's iPod.
Joost, which uses Internet peer-to-peer file sharing technology to deliver videos, was founded by Niklas Zennstrom and Janus Friis, two Scandinavian entrepreneurs whose past projects like Web phone service Skype and file-sharing network Kazaa have shaken the media and communications industries.
Joost does not disclose viewership figures yet, but it is likely paltry compared to the two-year-old YouTube's estimated 100 million daily views.
Thijm said she did not see Joost as a rival for YouTube as the latter mainly offers 10-minute videos that act as promotional clips for big media, whereas Joost seeks to be an alternative to traditional television by offering full-length programming.
The company said it serves an untapped market in offering entire episodes or movies in a secure environment in an advertising-supported basis.
"We're steadily signing up a stream of content owners," Thijm said.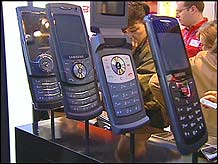 Viacom to provide content to Joost
Following break with YouTube, media conglomerate to offer movies and shows on new Internet TV platform.
NEW YORK (CNNMoney.com) -- Media conglomerate Viacom is teaming up to provide content to new Web TV service Joost, the companies said Tuesday.
Viacom (Charts) said it will provide a wide range of content for the Joost platform, including TV shows like MTV's Laguna Beach and VH1's Flavor of Love.
Full-length movies will also be available through its Paramount Pictures division.
The move comes just weeks after Viacom demanded that online video sharing site YouTube, which is owned by Google (Charts), remove Viacom content from its site.
Joost, the TV distribution system started by Skype founders Niklas Zennstrom and Janus Friis, allows users with a broadband Internet connection free access to a wide range of programs and channels.
"We have the number one portfolio of entertainment sites in the world and unrivaled distribution on mobile devices, but we're determined to keep pushing and growing our digital presence and bring our programming to audiences on every platform and device that they want," Viacom CEO Philippe Dauman said in a statement.
In addition to MTV and Paramount, Viacom owns a host of other brands, including BET, Comedy Central and Nickelodeon.
Other traditional media firms like Walt Disney (Charts), CBS (Charts), News Corp. (Charts) and Time Warner (Charts) also have been building up their digital presence. (CNNMoney.com is a unit of Time Warner.)