O.J. Simpson Granted $125,000 Bail
Simpson Ordered to Surrender Passport, Stay Away From Witnesses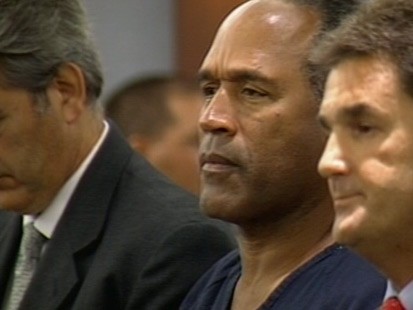 By SCOTT MICHELS
Sept. 19, 2007 —
A Las Vegas judge set bail today at $125,000 for O.J. Simpson for his alleged role in the armed robbery of two sports memorabilia dealers in a Las Vegas hotel room.
In front of a packed courtroom, Judge Joe M. Bonaventure ordered Simpson to surrender his passport to his attorney and to avoid contact with the accusers and witnesses in the case. Simpson's attorneys and the Las Vegas district attorney said they had agreed on the terms and amount of Simpson's bail before the hearing.
Standing in handcuffs and a blue prison uniform, Simpson said he understood the terms of his bail. He did not enter a plea or speak to the courtroom audience, which included Simpson's daughter from his first marriage, Arnell Simpson, and his girlfriend, Christie Prody.
After the hearing, Simpson's attorney Yale Galanter said Simpson would enter a plea of not guilty. He called the bail "extremely reasonable."
"He just wants to get home and be with his family," Galanter said.
Two sports memorabilia dealers have accused Simpson and several of his associates of robbing them at gunpoint inside their hotel room at the Palace Station Casino in Las Vegas. Prosecutors do not claim that Simpson was armed, but according to a recently released police report, the dealers Alfred Beardlesy and Bruce Fromong said that two of the men with Simpson brandished semiautomatic guns during the incident.
Simpson has said that he was only retrieving memorabilia that he said was stolen from him.