Many Rights in U.S. Legal System Absent in New Bill
By R. Jeffrey Smith
Washington Post Staff Writer
Friday, September 29, 2006; A13

The military trials bill approved by Congress lends legislative support for the first time to broad rules for the detention, interrogation, prosecution and trials of terrorism suspects far different from those in the familiar American criminal justice system.
President Bush's argument that the government requires extraordinary power to respond to the unusual threat of terrorism helped him win final support for a system of military trials with highly truncated defendant's rights. The United States used similar trials on just four occasions: during the country's revolution, the Mexican-American War, the Civil War and World War II.
Included in the bill, passed by Republican majorities in the Senate yesterday and the House on Wednesday, are unique rules that bar terrorism suspects from challenging their detention or treatment through traditional habeas corpus petitions. They allow prosecutors, under certain conditions, to use evidence collected through hearsay or coercion to seek criminal convictions.
The bill rejects the right to a speedy trial and limits the traditional right to self-representation by requiring that defendants accept military defense attorneys. Panels of military officers need not reach unanimous agreement to win convictions, except in death penalty cases, and appeals must go through a second military panel before reaching a federal civilian court.
By writing into law for the first time the definition of an "unlawful enemy combatant," the bill empowers the executive branch to detain indefinitely anyone it determines to have "purposefully and materially" supported anti-U.S. hostilities. Only foreign nationals among those detainees can be tried by the military commissions, as they are known, and sentenced to decades in jail or put to death.
At the same time, the bill immunizes U.S. officials from prosecution for cruel, inhumane or degrading treatment of detainees who the military and the CIA captured before the end of last year. It gives the president a dominant but not exclusive role in setting the rules for future interrogations of terrorism suspects.
Written largely, but not completely, on the administration's terms, with passages that give executive branch officials discretion to set details or divert from its protections, the bill is meant to provide what Bush said yesterday are "the tools" needed to handle terrorism suspects U.S. officials hope to capture.
For more than 57 months after the 2001 terrorist attacks on the World Trade Center and the Pentagon, Bush maintained that he did not need congressional authorization of such tools. But the Supreme Court decided otherwise in June, declaring the administration's detainee treatment and trial procedures illegal, and ruling that Bush must first seek Congress's approval.
Now Bush has received much of the authority he desired from party loyalists and a handful of Democrats on Capitol Hill. "The American people need to know we're working together," Bush told senators before yesterday's vote.
But Tom Malinowski, the Washington office director for Human Rights Watch, said Bush's motivation is partly to protect his reputation by gaining congressional endorsement of controversial actions already taken. "He's been accused of authorizing criminal torture in a way that has hurt America and could come back to haunt our troops. One of his purposes is to have Congress stand with him in the dock," Malinowski said.
The bill contains some protections unavailable to the eight Nazi saboteurs who came ashore in the United States in 1942 and were captured two weeks later. Six were executed that year after a closed military trial on the fifth floor of Justice Department headquarters. That proceeding was upheld by the Supreme Court in a decision it explained two months after the electrocutions.
Under the new procedures, trials are supposed to be open, but can be closed to protect the security of individuals or information expected to harm national security. Defendants have a right to be present, unless they are disruptive, and a right to examine and respond to the evidence against them. Proof of guilt must exceed a reasonable doubt.
Many constitutional experts say, however, that the bill pushes at the edges of so much settled U.S. law that its passage will not be the last word on America's detainee policies. They predict it will shift the public debate to the federal courts, a forum where the administration has had less success getting its way on counterterrorism policies.
"This is a full-employment act for lawyers," said Deborah Perlstein, who directs the U.S. Law and Security Program at the New York-based nonprofit group Human Rights First.
Former White House associate counsel Bradford A. Berenson, a supporter of the bill and one of the authors of the rules struck down by the Supreme Court, agreed. "Some of the most creative legal minds are going to be devoted to poking holes in this," he said.
Anticipating court challenges, the administration attempted to make the bill bulletproof by including provisions that would sharply restrict judicial review and limit the application of international treaties -- signed by Washington -- that govern the rights of wartime detainees.
The bill also contains blunt assertions that it complies with U.S. treaty obligations.
University of Texas constitutional law professor Sanford V. Levinson described the bill in an Internet posting as the mark of a "banana republic." Yale Law School Dean Harold Koh said that "the image of Congress rushing to strip jurisdiction from the courts in response to a politically created emergency is really quite shocking, and it's not clear that most of the members understand what they've done."
In contrast, Douglas W. Kmiec, a professor of constitutional law at Pepperdine University, said Congress "did reasonably well in terms of fashioning a fair" set of procedures. But Kmiec and many others say they cannot predict how the Supreme Court will respond to the provision barring habeas corpus rights, which he said will leave "a large body of detainees with no conceivable basis to challenge their detentions."
There are other likely flashpoints. In the Supreme Court's June decision overturning previous administration policies, four members of the court who joined the majority opinion said conspiracy is not a war crime. The new bill says it is.
Georgetown University law professor Neal Katyal said the bill's creation of two systems of justice -- military commissions for foreign nationals and regular criminal trials for U.S. citizens -- may violate the Constitution's 14th Amendment, which requires equal protection of the laws to anyone under U.S. jurisdiction.
"If you're an American citizen, you get the Cadillac system of justice. If you're a foreigner or a green-card holder, you get this beat-up-Chevy version," he said.

Americans may be held as 'enemy combatants,' appeals court rules
Government welcomes ruling upholding presidential power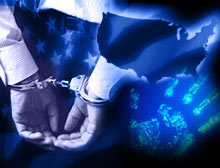 RICHMOND, Virginia (CNN) --A federal appeals court Wednesday ruled President Bush has the authority to designate U.S. citizens as "enemy combatants" and detain them in military custody if they are deemed a threat to national security.
"Judicial review does not disappear during wartime but the review of battlefield captures in overseas conflicts is a highly deferential one," said the opinion of the 4th U.S. Circuit Court of Appeals.
The ruling reverses a lower court decision ordering the government to produce more information to defend its holding of Yaser Hamdi, a U.S. citizen accused of fighting with the Taliban in Afghanistan, and dismisses the complaint of his attorneys.
The appeals court ruling was immediately hailed by the government.
"I applaud today's decision, which reaffirms the president's authority to capture and detain individuals such as Hamdi who join our enemies on the battlefield to fight against America and its allies," said Attorney General John Ashcroft. "Today's ruling is an important victory for the president's ability to protect the American people in times of war."
Hamdi, who was born in Louisiana but grew up in Saudi Arabia, is being held in a Navy brig in Norfolk, Virginia, after being captured in Afghanistan.
He has not been allowed visits by the federal public defender who represents him, and the government has given no indication if or when it may file charges against him.
Through a series of court proceedings, Hamdi defense counsel Frank Dunham has argued his client's constitutional rights were being violated. Although a lower court agreed, the three-member appeals panel unanimously rejected the arguments.
"The events of September 11th have left their indelible mark," the court said in explaining its decision to defer to executive authority. "It is not wrong even in the dry annals of judicial opinion to mourn those who lost their lives that terrible day. Yet we speak in the end not from anger or sorrow but from the conviction that separation of powers takes on special significance when the nation itself comes under attack."
"Hamdi's status as a citizen, as important as that is, cannot displace our constitutional order or the place of the courts within the Framer's scheme," the opinion said.
The federal appeals court in Richmond is widely viewed as among the most conservative in the nation, and has generally supported the government's lawyers during a series of disputes in the Hamdi case.
The ruling Wednesday was issued by Circuit Court Judges J. Harvie Wilkinson III, and William Wilkins, both appointed by President Ronald Reagan, and Judge William Traxler Jr., who was appointed by President Bill Clinton.
In this third appeal by the government in the Hamdi case, the Circuit Court again overturned U.S. District Court Judge Robert Doumar, a Reagan appointee.
In the latest appeal, the United States had asked the Circuit Court to overturn Doumar's order requiring the production of various materials regarding Hamdi's status as an alleged enemy combatant. The lower court questioned whether a declaration by a Defense Department official setting forth what the government contends were the circumstances of Hamdi's capture was sufficient by itself to justify his continued detention.
The appeals panel said it was.
"Because it is undisputed that Hamdi was captured in a zone of active combat in a foreign theater of conflict, we hold that the submitted declaration is a sufficient basis upon which to conclude that the commander-in-chief has constitutionally detained Hamdi pursuant to the war powers entrusted to him by the United States Constitution," the Appeals Court said. "No further factual inquiry is necessary or proper, and we remand the case with direction to dismiss the petition."
Court does not address Padilla case
The court did not address the issue presented in a separate case involving another enemy combatant, that of accused "dirty bomb" suspect Jose Padilla. (More on Padilla case)
"We have no occasion, for example, to address the designation as an enemy combatant of an American citizen captured on American soil or the role that counsel might play in such a proceeding. See, e.g., Padilla v. Bush," the opinion read.
"We shall, in fact, go no further in this case than the specific context before us -- that of the undisputed detention of a citizen during a combat operation undertaken in a foreign country and a determination by the executive that the citizen was allied with enemy forces."
Ashcroft has alleged that Padilla, 31, who was detained last May after arriving at Chicago's O'Hare International Airport from overseas, was part of a scheme by al Qaeda to explode a conventional bomb laced with radioactive material, possibly in Washington, D.C.
After Padilla had been detained for a month as a material witness in a federal facility in New York City, President Bush declared him an enemy combatant and he was transferred to a Navy brig in Charleston, South Carolina.
His attorneys have argued that he ought to be returned to New York and that the government should be forced to comply with standard criminal court procedures, including letting him speak to his attorneys.
Molly Ivins: Habeas Corpus, R.I.P. (1215 - 2006)
Posted on Sep 27, 2006
By Molly Ivins
With a smug stroke of his pen, President Bush is set to wipe out a safeguard against illegal imprisonment that has endured as a cornerstone of legal justice since the Magna Carta.
---
AUSTIN, Texas—Oh dear. I'm sure he didn't mean it. In Illinois' Sixth Congressional District, long represented by Henry Hyde, Republican candidate Peter Roskam accused his Democratic opponent, Tammy Duckworth, of planning to "cut and run" on Iraq.
Duckworth is a former Army major and chopper pilot who lost both legs in Iraq after her helicopter got hit by an RPG. "I just could not believe he would say that to me," said Duckworth, who walks on artificial legs and uses a cane. Every election cycle produces some wincers, but how do you apologize for that one?
The legislative equivalent of that remark is the detainee bill now being passed by Congress. Beloveds, this is so much worse than even that pathetic deal reached last Thursday between the White House and Republican Sens. John Warner, John McCain and Lindsey Graham. The White House has since reinserted a number of "technical fixes" that were the point of the putative "compromise." It leaves the president with the power to decide who is an enemy combatant.
This bill is not a national security issue—this is about torturing helpless human beings without any proof they are our enemies. Perhaps this could be considered if we knew the administration would use the power with enormous care and thoughtfulness. But of the over 700 prisoners sent to Gitmo, only 10 have ever been formally charged with anything. Among other things, this bill is a CYA for torture of the innocent that has already taken place.
Death by torture by Americans was first reported in 2003 in a New York Times article by Carlotta Gall. The military had announced the prisoner died of a heart attack, but when Gall saw the death certificate, written in English and issued by the military, it said the cause of death was homicide. The "heart attack" came after he had been beaten so often on this legs that they had "basically been pulpified," according to the coroner.
The story of why and how it took the Times so long to print this information is in the current edition of the Columbia Journalism Review. The press in general has been late and slow in reporting torture, so very few Americans have any idea how far it has spread. As is often true in hierarchical, top-down institutions, the orders get passed on in what I call the downward communications exaggeration spiral.
For example, on a newspaper, a top editor may remark casually, "Let's give the new mayor a chance to see what he can do before we start attacking him."
This gets passed on as "Don't touch the mayor unless he really screws up."
And it ultimately arrives at the reporter level as "We can't say anything negative about the mayor."
The version of the detainee bill now in the Senate not only undoes much of the McCain-Warner-Graham work, but it is actually much worse than the administration's first proposal. In one change, the original compromise language said a suspect had the right to "examine and respond to" all evidence used against him. The three senators said the clause was necessary to avoid secret trials. The bill has now dropped the word "examine" and left only "respond to."
In another change, a clause said that evidence obtained outside the United States could be admitted in court even if it had been gathered without a search warrant. But the bill now drops the words "outside the United States," which means prosecutors can ignore American legal standards on warrants.
The bill also expands the definition of an unlawful enemy combatant to cover anyone who has "has purposefully and materially supported hostilities against the United States." Quick, define "purposefully and materially." One person has already been charged with aiding terrorists because he sold a satellite TV package that includes the Hezbollah network.
The bill simply removes a suspect's right to challenge his detention in court. This is a rule of law that goes back to the Magna Carta in 1215. That pretty much leaves the barn door open.
As Vladimir Bukovsky, the Soviet dissident, wrote, an intelligence service free to torture soon "degenerates into a playground for sadists." But not unbridled sadism—you will be relieved that the compromise took out the words permitting interrogation involving "severe pain" and substituted "serious pain," which is defined as "bodily injury that involves extreme physical pain."
In July 2003, George Bush said in a speech: "The United States is committed to worldwide elimination of torture, and we are leading this fight by example. Freedom from torture is an inalienable human right. Yet torture continues to be practiced around the world by rogue regimes, whose cruel methods match their determination to crush the human spirit."
Fellow citizens, this bill throws out legal and moral restraints as the president deems it necessary—these are fundamental principles of basic decency, as well as law.
I'd like those supporting this evil bill to spare me one affliction: Do not, please, pretend to be shocked by the consequences of this legislation. And do not pretend to be shocked when the world begins comparing us to the Nazis.