Porn Distributor Vivid Entertainment Is Releasing 'Jimi Hendrix the Sex Tape'
Vivid Entertainment claimed to have obtained a sex tape allegedly featured the late Jimi Hendrix having sex with two women and already released the tape on the net Tuesday, April 29.
---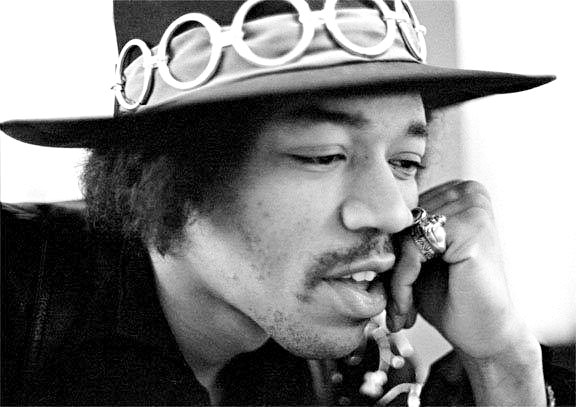 "
Jimi Hendrix
the Sex Tape" is on sale. Los Angeles-based adult entertainment company Vivid Entertainment announced it has acquired from a memorabilia collector a sex tape featuring the late guitar god and already released it for sale on the Internet on Tuesday, April 29.
The 11-minutes footage, allegedly showed a man resembling Hendrix having sex with two unidentified women, is packaged in a 45-minute DVD, titled "Jimi Hendrix the Sex Tape", by Vivid. The footage, according to a statement from Vivid, was filmed in a hotel room in the late 1960s.
The alleged sex tape, which reportedly doesn't consist of any sound and has poor lighting, will include flashbacks of the rock legend's career and retail for $39.95 in stores and via download. It will not have a Hendrix soundtrack though as Vivid did not obtain music licenses.
Vivid said in a press release, "This new movie shows that Jimi Hendrix could have been as great a porn star as he was a rock star." The film's authenticity, however, was immediately challenged by some, including the late musician's longtime girlfriend during the 1960s, Kathy Etchingham, who told the New York Times after viewing still photos taken from the footage, "It is not him" insisted "His face is too broad and nose and nostrils too wide for Jimi".
Sources who've seen the 8mm clip say Hendrix's face is only visible for a few seconds and thus they are not sure if it is really him in the tape. Vivid, in fact, was convinced the footage was the real deal after talking with the unidentified man who shot the explicit scene. The women in the film have yet to be identified.
The sex tape DVD is available at
vc1.hendrixsextape.com
and will be put in stores starting next Tuesday, May 6. Vivid also distributed the notorious sex tape of actress
Pamela Anderson
and rocker
Tommy Lee
, among others. As for Hendrix, he died in 1970 at the age of 27 from drug-related causes. He was considered one of the greatest and most influential guitarists in rock music history.
Jimi Hendrix Sex Tape !!!
TMZ has obtained the 40-year-old sex tape featuring Jimi Hendrix and two brunettes.....shot decades before sex tapes were all the rage.
The tape is up close, personal and raunchy. A rock 'n roll memorabilia collector found and sold it to Vivid Entertainment. Here's the deal, during the threesome, Hendrix loses his clothes but never sheds his legendary headband!